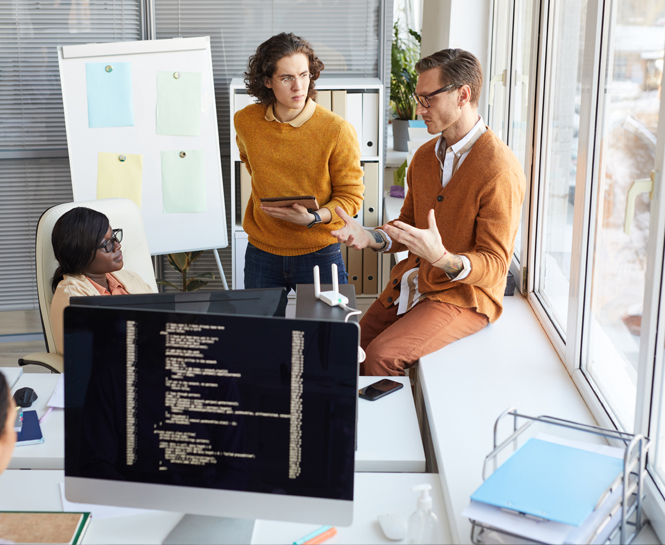 Website Development
Website design and development is the basic requirement for any modern business, what you need is more than an ordinary but appealing website. A website that reflects your business to your clients with specialized design and content. With a positive impact on your customers, you will get a sales boost and impact that your business needs.
We offer the best website design & development packages with affordability. Our website solutions have impacted hundreds of businesses across the globe and increased their growth and revenue. From simple to more dynamic development requirements of our clients, whether you are a corporate or small business, our priority is always to deliver an equal level of engaging web design and development experience to everyone.
Give your Business a Website, with
Azlaan's
Tailored Packages

Designed
for Every Business Scale. 
Essential
Design
Basic GUI Design
Up to 7 HTML Web Pages
Content Publishing
Static Website



Features
1 Contact Form
Links to Social Profiles
Click to Dial
Click to eMail/Inquiry
Basic Document Library
(Up to 5 Documents)









Platform
HTML, PHP, Bootstrap, WordPress



Support
Inquire Now
Managed Support
Shared Hosting Included
Webmaster Account Management
Technical Support
Required Website Updates
Ongoing Development at 10% Discounted Rates
Inquire Now
Advanced
Design
Basic GUI Design
Up to 15 HTML Web Pages
Content Publishing
Dynamic Website
Mobile Optimized


Features
1 Contact Form
Links to Social Profiles
Click to Dial
Click to eMail/Inquiry
Advanced Document Library
(Up to 25 Documents)
3 Custom Form (Custom Modules)
Standard Database
Standard CMS
Admin Portal





Platform
HTML, Custom PHP, Bootstrap,
WordPress, Laravel


Support
Inquire Now
Managed Support
Shared Hosting Included
Webmaster Account Management
Technical Support
Required Website Updates
2 Hours Complementary Work/Month Ongoing Development at 15% Discounted Rates.



Inquire Now
Premium
Design
Premium GUI Design
Unlimited Web Pages
Content Publishing
Dynamic Custom Website
Mobile Optimized
Content Writing (Up to 8 Pages)
Features
1 Contact Form
Links to Social Profiles
Click to Dial
Click to eMail/Inquiry
Advanced Document Library
(Up to 50 Documents)
5 Custom Form (Custom Modules)
Advanced Database
Advanced CMS
Advanced Admin Portal
Standard Reports (For Modules)
Application APIs
iOS Application
Android Application
Platform
Custom PHP, Laravel, ASP.NET
Apple iOS
Android
Support
Inquire Now
Managed Support
VPS Hosting Included
Webmaster Account Management
Technical Support
Required Website Updates
4 Hours Complementary Work/Month Ongoing Development at 20% Discounted Rates.
Developers Account Management
Apple iOS Updates
Android OS Updates
Inquire Now