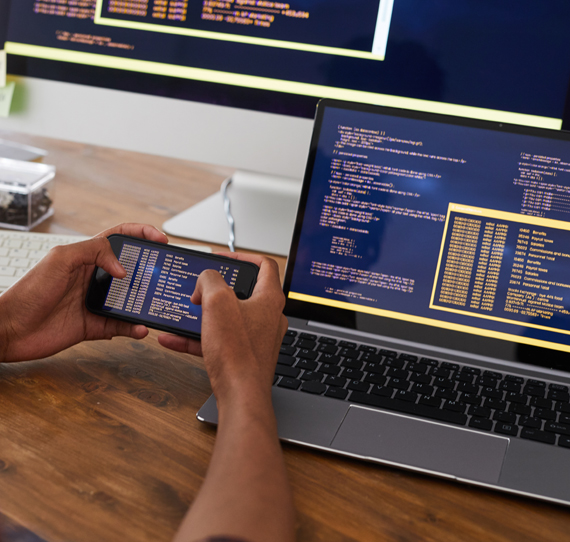 // managed services
Mobile App Development
Azlaan Technologies is enjoying an exceptionally talented team of mobile application developers where every developer perfectly takes care of all the essential features that are to say; from thorough design development to the final impression and presentation so what the client gets at the end is a flawless, best UI and UX designed multi-purpose mobile application that enhances efficiency in every respect. With more than ten years of experience in mobile application development, our development team has the knowledge and capability to give shape to complex ideas and demands of clients at a comparatively minimal cost and time.
Mobile application developers at Azlaan Technologies are known for their ten-year track record of successful mobile application development and it is normal for them to deal with challenging tasks. It is our principle to meet deadlines, deliver on time any mobile application development-related project to valued clients as well as ensure unbroken integration and operation of the mobile application across all platforms or operating systems.
01
iOS
We develop multifunctional and custom iOS applications for our clients, considering the requirement of our client we use up-to-date technologies delivering a satisfying mobile application development experience.
02
Andriod
We have developed android mobile apps for several industries, including
healthcare, transport, and asset tracking. With our engaging UI/UX and
clean code, we win the hearts of our clients.
03
Core Features
Our mobile app developers consider all the core feature requisites such as functionality, interaction, usability, push notifications, feedback systems,
and other customization in your mobile app.
04
User Experience
We always consider user experience a top priority in the development of any mobile app, that is why we always deliver a highly engaging and user-centric
mobile app.
05
Multi-Platform
Mobile apps we design, are always multi-platform, we know our client will always want a mobile app, which functions without any issue on any mobile device currently available in the market.
06
Real Value
We believe in 'You get what you pay for'. Our mobile application development team covers every requirement of our customers. We deliver your mobile app with affordability and on time.
Development Activities
We
Consider Most Important
Clear Exchange Of Idea & Requirement
To prevent any misunderstanding and trouble amid project implementation, we passionately exchange ideas with clients and know their requirements.
High End Coding
Our highly proficient mobile app developers can develop impeccable and clear-coded custom mobile apps for any industry in a short time.
Developing Quality Mobile Apps
Customer satisfaction is our philosophy, speaking from our experience, we are known for our quality work and on-time delivery.