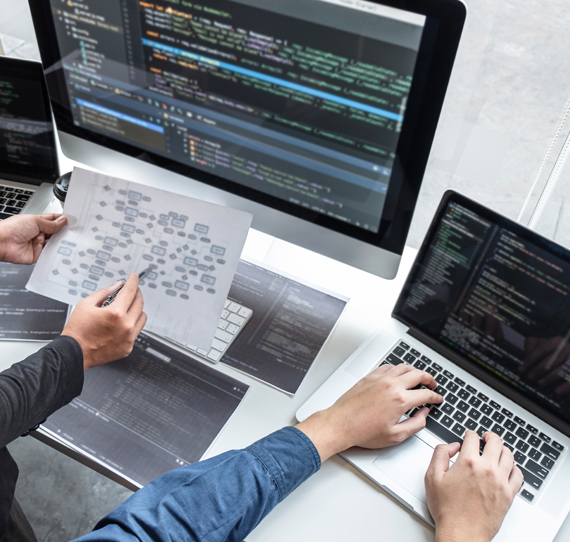 // managed services
Custom Software Development
Surpass your competitors and rule your field of business with Azlaan Technologies' flawless, economical, authorized, and reliable custom software development services that meet your specific needs, budget, and planning schedule. For more than ten years, Azlaan Technologies has been providing functional and operational custom software services to B2B and B2C clients in multiple countries around the globe.
With an experience of a decade, our developers dominate the domain of custom software development satisfying customers with customizable, multi-feature, multi-functional, secure, and high impact software solutions. Our proficient developers apply the latest technologies in developing custom software for businesses, governments, educational institutions, and other organizations, keeping in mind the requirements, complexity, and nature of the entity's field of operation.
We Love
Bespoke


Custom Software

Development
Exchanging Ideas
Our proficient software development consultants exchange ideas with clients, understand their specific needs and deliver them to the development team so that we can provide and deliver a unique custom software development experience to our valued customers.
Experienced Development Team
With the previous experience of developing complex software solutions, our development team has already worked in the international software industry, providing solutions such as healthcare management systems, asset tracking, and more. Our development experts are more than capable of understanding all the parts of your complex requirements and making your life simple.
Coding Value
We use up-to-date technologies in our custom software development pursuits. Versed with planning, designing, coding, and testing, our development team strives to go beyond their capabilities in development for our clients for secure, flawless, multifunctional software products with minimum cost and great turnaround time.
Cross-Platform Development & Testing
With so many technologies and platforms involved for different user scenarios, we develop your software product for every technology and platform and perform comprehensive testing on different platforms to provide our customers great cross-platform experience.
Cloud Friendly Development From Start
From the very first development stage of your project, our programmers consider the best cloud development platform for your software. As we are partner with industry leaders like AWS and Azure, and more, our development team makes sure to perfectly match the cloud development requirements with the best option.